Attorney Kenny Hunt receives 28th Judicial District Bar Professionalism Award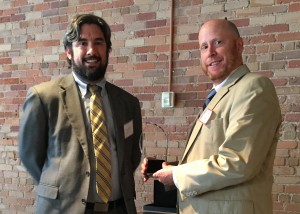 At the 28th Judicial District Bar Annual Meeting on June 13, Roberts & Stevens attorney Kenny Hunt was honored with the 2018 Professionalism Award. Ben Many of Pisgah Legal Services (pictured left) nominated Kenny for the award and introduced him during the ceremony.
Kenny represents clients in civil litigation primarily in the areas of insurance defense, construction litigation, real property litigation, and residential and commercial lease litigation.