John S. Stevens, attorney and founder of Roberts & Stevens, celebrates 50 years of service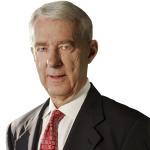 Jack Stevens, attorney and founder of Roberts & Stevens Attorneys at Law has practiced at Roberts & Stevens and given back to the community for 50 years.
Stevens has a distinguished legal career representing large municipal corporations, the State of North Carolina in insurance matters, private schools and colleges, and family-owned businesses. Stevens remains an active partner who is credited with shaping the approachable culture of the firm. His areas of focus include business/corporate law and higher education.
In his early career, Stevens served four terms in the North Carolina House of Representatives General Assembly (1969–1976) and was Chairman of the House Rules Committee during the 1975 session. Over the years, he has continued to be active in the North Carolina Bar Association, including a term as President.
Stevens has served locally as President of Mission Hospital, former Board of Trustees and Chairman of the Board of Mission-St. Joseph Health Systems, and former Chairman of the Asheville Area Chamber of Commerce.
Statewide, Stevens has served as President of UNC Hospitals, Board of Trustees and Chairman of the Board of the UNC Healthcare System, Board of Trustees of the University of North Carolina at Chapel Hill, Director of NC Lawyers Mutual Insurance Company, and the Chairman of the Governor's Task Force on Drunken Drivers.
Currently, he is a member of the Board of Directors of the North Carolina Foundation for Advanced Health Programs, Attorneys for Family-Held Enterprises and the North Carolina Parks and Recreation Authority.
Among his accomplishments, Stevens is an AV Preeminent Peer Review Rated lawyer by Martindale-Hubbell, named to The Best Lawyers in America in Corporate Law since 2008, named a North Carolina Super Lawyer and has received the North Carolina Bar Association Centennial Award.
As an Asheville native, he is proud to have had the opportunity to build a law firm and, of equal importance, raise a family in Asheville.