MANNA FoodBank Blue Jean Ball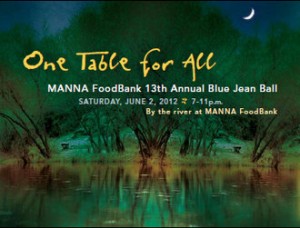 The 13th Annual MANNA FoodBank Blue Jean Ball will be Saturday, June 2, 2012, 7pm-11pm at the MANNA FoodBank Offices.The Ball will include dinner from 20 local restaurants and live entertainment.
MANNA FoodBank is a private, not-for-profit service organization, founded in 1982, that links the food industry with 231 partner agencies in 16 counties of WNC. MANNA FoodBank collects, stores, warehouses and distributes food to MANNA accredited non profits. MANNA provides direct service on a very limited basis to those struggling with hunger through our MANNA Packs for Kids Program and Food Stamp Outreach. MANNA assists partner agencies with acquiring food to serve those facing hunger. Their providers include the food industry, individuals, farmers, and State and Federal Agencies. They are also a member of Feeding America, an umbrella organization that links together 205 other food banks throughout the United States.
Click here for more information and for tickets.
Roberts & Stevens is proud to be a sponsor of this event.