Roberts & Stevens Sponsor for Power of the Purse Luncheon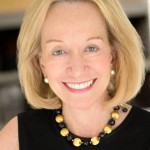 Roberts & Stevens is a proud sponsor of the 13th Annual Power of the Purse® Luncheon presented by The Community Foundation of Western North Carolina. This year's event features renowned presidential historian and Pulitzer Prize-winning author Doris Kearns Goodwin.
Goodwin will provide a historical perspective on "Our Wild 2016 Election" and will take questions from the audience. She is the author of six critically acclaimed and New York Times best-selling books. Her award-winning book, Team of Rivals: The Political Genius of Abraham Lincoln, was awarded the prestigious Lincoln Prize and the inaugural Book Prize for American History. Goodwin was awarded the Pulitzer Prize in history for No Ordinary Time: Franklin and Eleanor Roosevelt: The Home Front in World War II.
Power of the Purse® brings well-known female speakers and personalities to Western North Carolina to celebrate the power of women's philanthropy. Support from sponsors allows Power of the Purse to direct maximum funds to projects for women and girls. The event takes place on Tuesday, May 23, at the Expo Center at the Crowne Plaza in Asheville.  More information is available here.