Roberts & Stevens sponsors The Community Foundation of Western North Carolina's Power of the Purse® Luncheon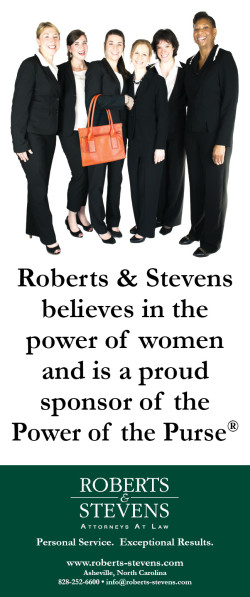 ASHEVILLE – Roberts & Stevens, PA, is pleased to be a gold sponsor of the Community Foundation of Western North Carolina's sold-out 11th Annual Power of the Purse®, taking place on Tuesday, May 19, at the Expo Center at the Crowne Plaza in Asheville. William (Billy) Clark, shareholder with Roberts & Stevens, serves on the Board of Directors for the CFWNC.
Bestselling author, memoirist and prison reform activist Piper Kerman is the featured speaker for the sold-out event.
In her memoir Orange is the New Black: My Year in a Woman's Prison, Kerman recounts the year she spent in the Danbury Correctional Facility for a drug trafficking crime committed ten years prior. Her story is compelling, moving and often comical. It addresses societal issues such as friendship and family, mental illness, the uneasy relationship between prisoner and jailor and the lack of guidance for life after prison. Kerman now advocates for prisoners' rights and sentencing reform.
Power of the Purse® brings well-known female speakers and personalities to Western North Carolina to celebrate the power of women's philanthropy. The afternoon includes the announcement of grants from Women for Women, a Community Foundation giving circle. Past speakers have included Olympia Snowe, Dee Dee Myers, Anna Deavere Smith, Gloria Steinem, Jennifer Buffett, Cokie Roberts and Anna Quindlen.
Proceeds from the event benefit The Women's Fund, a permanent endowment of The Community Foundation of Western North Carolina that supports the unmet needs of women and girls across the region.
For more information, click here.