John S. "Jack" Stevens inducted into the North Carolina Bar Association's General Practice Hall of Fame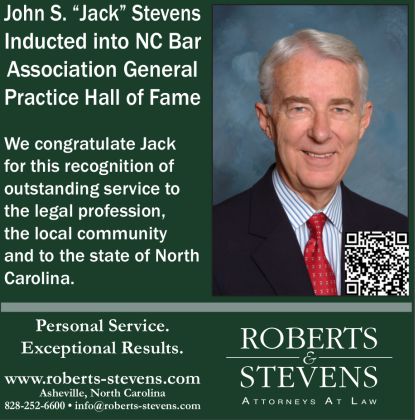 On Thursday, June 20th, at the North Carolina Bar Association's (NCBA) Annual Meeting, six outstanding North Carolina lawyers will be inducted into the North Carolina Bar Association's General Practice Hall of Fame. John S. "Jack" Stevens of Asheville will be the only attorney from Western North Carolina honored. The Hall of Fame was established in 1989 to recognize the exceptional professional careers of certain North Carolina attorneys who are among the nearly 18,000 members of the NCBA. This year's induction class brings total membership in the Hall of Fame to 142 attorneys.
Jack Stevens began his law practice in 1961 in Asheville. Jack's practice as a young lawyer was the same as most attorneys at that time. He was a general practitioner who represented clients in real estate matters, trust and estate planning, corporate and commercial matters and in civil trials in State and Federal courts. Currently his practice includes business, corporate, trust and estate matters, hospital and health law and higher education law.
In 1986, Jack's firm merged with another Asheville firm to become Roberts & Stevens, which focuses on providing the highest quality legal services to the business community, governmental agencies and individuals.
With a distinguished legal career, Jack remains an active partner who is credited with shaping the approachable culture of the firm. The quality of Jack's legal practice and expertise are unsurpassed. For 42 of his 52 years of practice he has been designated as an AV Preeminent Peer Review Rated Attorney by Martindale-Hubbell. He has also been recognized by Best Lawyers in America, Business North Carolina's Legal Elite and North Carolina Super Lawyers. Jack was presented the North Carolina Bar Association/28th Judicial District Bar Association Centennial Award in 2008 for outstanding service which benefits his local community. He was also honored by his firm, 12 years ago, when they unanimously created the "John S. Stevens Justice Fund" at the North Carolina Bar Association Foundation.
In his early career, Jack served four terms in the North Carolina General Assembly (1969-1975) and was Chairman of the House Rules Committee during the 1975 session. Over the years, he has continued to be active in the North Carolina Bar Association, including a term as President.
Currently, he is a member of the Board of Directors of the North Carolina Foundation for Advanced Health Programs, the North Carolina Humanities Council, and the North Carolina Parks and Recreation Authority. Previously he has served on the Board of Directors of the Asheville Area Chamber of Commerce, Cherokee Indian Hospital, the Governor's Task Force for Safe Roads, Mission-St. Joseph Health Systems, UNC Healthcare System and the University of North Carolina at Chapel Hill as a former Board of Trustees, Board of Visitors, and Life Member. Jack is also a member of the International Association for Attorneys for Family-Held Enterprises.
Jack is known in this community and state as an outstanding lawyer and good citizen. With his exceptional service to the legal profession, the local community and the state of North Carolina, Jack Stevens epitomizes the high excellence of the North Carolina Bar Association's General Practice Hall of Fame.