John W. Mason receives the 2012 Centennial Award presented by 28th Judicial District Bar and North Carolina Bar Association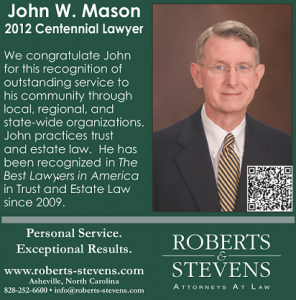 John W. Mason, partner at Roberts & Stevens law firm in Asheville, NC, has received the 2012 Centennial Award from the 28th Judicial District Bar and North Carolina Bar Association.
The North Carolina Bar Association Centennial Award honors an individual member of each Judicial District for outstanding service which benefits our local community. One of the goals of the North Carolina Bar Association Centennial was to inspire lawyers to the highest ideals of professionalism and service, as well as to celebrate the accomplishments of lawyers.
With his outstanding service to the legal profession, his country, and his community, John W. Mason is the definition of a Centennial Award winner and an asset to the legal profession.
For nearly 40 years, John Mason has practiced trust and estate law at Roberts & Stevens in Asheville including trust and estate planning, counseling clients on estate administration matters, and trust and estate litigation. He has been recognized by Martindale-Hubbell as an AV Lawyer and by Best Lawyers in America as Trust and Estate counsel since 2009.
John served his country as a 1st Lieutenant in the United States Marine Corps in Vietnam. He was awarded 6 medals including the Bronze Star medal (with combat "V" designation) and two Purple Heart medals. The Bronze Star Medal is a United States Armed Forces individual military decoration that may be awarded for bravery, acts of merit, or meritorious service. As a medal it is awarded for merit, and with the "V" for valor device it is awarded for heroism. It is the fourth-highest combat award of the U.S. Armed Forces and the ninth highest military award (including both combat and non-combat awards) in the order of precedence of U.S. military decorations. The Military Order of the Purple Heart is comprised entirely of combat veterans who shed their blood on the world's battlefields while serving our country in uniform. For this sacrifice they were awarded the Purple Heart Medal.
In the legal community, John Mason has consistently received recognition from colleagues for estate planning and probate litigation expertise. John has served as a President of the 28th Judicial District Bar Association, a Member of the Board of Governors and Vice-President of the North Carolina Bar Association.
John was also Chair of the North Carolina Bar Association Foundation Development Committee from 2002-06. This Committee coordinates all Foundation fundraising efforts to support all bar public service, pro bono and educational efforts across the state. "John has been a dedicated NCBA volunteer for many years and exemplifies all of the characteristics of an outstanding lawyer role model," says Tom Hull of the NC Bar Association.
Locally, John is a true conservationist, enjoying the outdoors by hiking and serving on the Board of the Friends of the Great Smoky Mountains and as previous Secretary of the non-profit Muddy Sneakers whose focus it is to get children outdoors. He is also a major donor to North Carolina Arboretum and to the Conservation Trust of North Carolina.
As far as volunteering, John Mason is and has been involved in many community organizations from being an American Red Cross Hero to being very involved in the UNC Law School Alumni Campaigns to being a prominent member of his church. Raising his girls by himself, he was also a very involved parent with the Girls Scouts, Pisgah Council. So much so that he is the only male to receive the President's Award. His compassion and service are a true testament to his honorable and inspirational character.
John Mason is a true asset to our community. Whether he is offering his expertise in legal services, advocating for the preservation of our beautiful region, or volunteering in his community, he is the definition of a Centennial Lawyer.