Marc Rudow receives 2012 Citizen Lawyer Award presented by the North Carolina Bar Association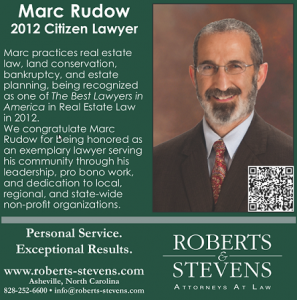 Marc Rudow, partner at Roberts & Stevens Law Firm in Asheville, NC, has received the 2012 Citizen Lawyer Award from The North Carolina Bar Association.
The North Carolina Bar Association Citizen Lawyer Award was established in 2007 to recognize lawyers who provide exemplary public service to their communities. This year, 13 attorneys across the state were chosen.
Marc Rudow practices commercial and residential real estate law, bankruptcy and creditors' rights, land conservation and estate planning at Roberts & Stevens Law Firm in Asheville. Marc's clients range from large business enterprises to first time home buyers who need a patient and trusted advisor. Marc has practiced for over 30 years and been named as an AV Preeminent Peer Review Rated Lawyer by Martindale-Hubbell and as one of The Best Lawyers in America in Real Estate Law in 2012.
With his established legal career in Asheville, Marc is also very involved in serving his community through his work with numerous local, regional and state-wide organizations.
As a part of his practice, Marc offers discounted legal services to families who cannot afford it or need educational assistance for their first real estate purchase. By diligently working with Habitat for Humanity and OnTrack Education and Financial Services, Marc offers low-income families a safe and affordable real estate transaction.
In another area of his practice, Bankruptcy, Marc also volunteers his services. He has been a member of the Bankruptcy Council from 1995-1998 and 2001-2004 and a volunteer ethics speaker focusing on Bankruptcy Crimes for the North Carolina Bar Association.
Marc also works with the land trust community in many capacities and is very dedicated to protect the land in NC. Marc is an avid volunteer member and offers reduced-rate legal work to the Southern Appalachian Highlands Conservancy. He also serves on the steering committee for the Blue Ridge Society and is presently on the Board of Directors of the Conservation Trust for North Carolina.
While balancing his volunteer legal work, Marc is very involved and committed to the Jewish Community in Asheville. As a member of the Foundation Board and Board of Directors of the Jewish Community Center of Asheville, Marc also finds time to volunteer for youth groups and small committees.
Marc is an asset to our community. Whether he is offering hundreds of hours of discounted legal services to those who need it most, advocating for the preservation of our beautiful region or volunteering in his community center with the youth group, he is the definition of a Citizen Lawyer.
For more information about the 2012 Citizen Lawyer Award recipients: https://www.ncbar.org/about/communications/news/2012-news-articles/outstanding-citizen-lawyers-recognized.aspx