Roberts & Stevens Named to Legal Elite
Six attorneys from Roberts & Stevens have been named to Business North Carolina magazine's Legal Elite 2016:
Gregory D. Hutchins for Business Law
Jackson D. Hamilton for Tax Law and Estate Planning
Jacqueline D. Grant for Employment Law
Rebecca J. Reinhardt for Real Estate Law
Stephen L. Cash in the Young Guns category
William "Billy" Clarke has been recognized since 2012 in the Legal Elite Hall of Fame for Environmental Law.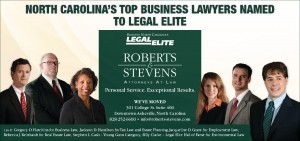 Since 2002, Business North Carolina magazine has honored Tar Heel lawyers by publishing Business North Carolina's Legal Elite, a listing of the state's top lawyers in business-related categories. Winners are chosen not by BNC editors but by the state's lawyers. Business North Carolina's Legal Elite is the only award that gives every active lawyer in the state the opportunity to participate. Fewer than 3% of the state's lawyers – 641 – made this year's list.
Roberts & Stevens is a full-service law firm in Asheville, North Carolina. As one of the largest firms in Western North Carolina, it serves regional and national clients in 29 practice areas and industries. The firm works with large corporations, small businesses, family-owned companies, government entities and individuals. It has collectively been practicing law in Asheville for more than five decades.
The firm moved its office recently from the BB&T Building to the new City Centre Building on the corner of Charlotte Street and College Avenue.  It shares the complex and parking deck with BB&T, Clark Nexsen Architecture and the adjacent new Hilton Garden Inn.