Roberts & Stevens attorneys honored by Business NC Magazine's Legal Elite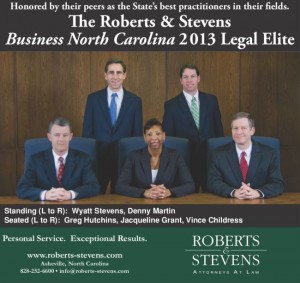 ASHEVILLE – Six attorneys from Roberts & Stevens have been named to Business North Carolina magazine's Legal Elite 2013: Vincent D. Childress, Jr. for Business Law; Jacqueline D. Grant for Employment Law; Gregory D. Hutchins for Business Law; Dennis L. Martin, Jr. for Construction Law in the Young Guns category and Wyatt S. Stevens for Litigation. William Clarke has been recognized in the Legal Elite Hall of Fame for Environmental Law.
Statewide, 3% of NC lawyers were selected by their peers in business-related categories. The Legal Elite results are based on a survey sent to more than 20,000 active members of the North Carolina State Bar living in North Carolina.
Roberts & Stevens was formed in 1986 when two long time Asheville firms merged.
A full-service law firm in Asheville, North Carolina, Roberts & Stevens serves regional and national clients in many varied industries. Our clientele includes large corporations, small businesses, family-owned companies, government entities and individuals. As one of the largest law firms in Western North Carolina, our size allows our attorneys to be responsive and sensitive to the economic and legal realities our clients face.