Roberts & Stevens sponsors 4th Annual Gran Fondo Asheville to Benefit Friends of the Smokies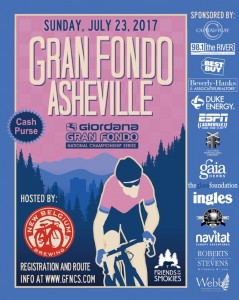 Roberts & Stevens is a proud sponsor of the 4th annual Gran Fondo Asheville cycling road race on Sunday, July 23, 2017. Road cyclists will take in the natural beauty of Western North Carolina as they cruise along a well-marked course with the option to push themselves for brief timed periods, competing to win. Beginner and avid cyclists alike will find challenging rides to meet their individual goals with courses covering 30-, 60- and 100-mile journeys.
Gran Fondo Asheville is a part of the Giordana Gran Fondo National Championship Series (GFNCS). The race benefits Friends of Great Smoky Mountains National Park, an organization for which Roberts & Stevens attorneys Wyatt Stevens and John Mason both serve on the board of directors. Roberts & Stevens works with landowners, land trusts, and environmental and conservation organizations to protect and preserve land in Western North Carolina.
More information and registration details for the Gran Fondo Asheville are available here.