Roberts & Stevens Attorney Ann-Patton Hornthal's Case Included in NC Lawyers Weekly's Most Significant Opinions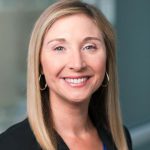 North Carolina Lawyers Weekly recently named its most significant opinions from the first quarter of 2016.  Included on the list was the Court of Appeals Opinion in Holder v. Kunath (Lawyers Weekly No. 011-008-16, 9 pp.) (Martha Geer, J.).  There, an estranged boyfriend and girlfriend filed motions for domestic violence protective orders against each other ("Dueling 50Bs"). See N.C.G.S. G.S. § 50B-3(b).  Pisgah Legal Services represented the girlfriend.  After a hearing on the boyfriend's motion, the trial court could not determine who was telling the truth and dismissed the girlfriend's motion before she was allowed to be heard or present evidence.  The Court of Appeals reversed and remanded, agreeing with Appellant's argument that the trial court had violated the girlfriend's statutory and due process rights to a hearing by dismissing her case without allowing her to be heard first.
Litigation attorney and appellate practitioner, Ann-Patton Hornthal, assisted with the appeal on a pro bono basis as part of Pisgah Legal Service's Mountain Area Volunteer Lawyer Program.  Pisgah Legal Services seeks to pursue justice by providing legal assistance and advocacy to help low-income people in Western North Carolina meet their basic needs and improve their lives.
Parties often retain Ann-Patton as new or additional counsel on appeal. She devotes a substantial portion of her practice to appellate work. Before joining Roberts & Stevens, Ann-Patton interned for the Honorable Hugh Lawson, Federal District Court Judge for the Middle District of Georgia.
The appellate law team at Roberts & Stevens has extensive experience representing civil litigants before the Fourth Circuit Court of Appeals, North Carolina Court of Appeals, North Carolina Supreme Court, and the Cherokee Supreme Court.
Contact
Ann-Patton Hornthal
P:  (828) 210-6815
aphornthal@roberts-stevens.com